Being an artist
Please give us a few words of introduction about yourself
A contemporary artist based in Hampshire, creating unique creature artworks from recycled paper and wire.
When did you decide to pursue art as a career?
In 1997, fed up with non-creative office work and the commute.
What training have you had?
None whatsoever! Made it up as I went along . . .
What has been the high point of your career so far?
Selling an artwork at every annual Marwell Zoo Art Exhibition I've entered and my first Gallery sale!
General Questions
What's your favourite quote?
No point in both of us being miserable.
Who is your favourite artist?
Salvador Dali.
What are you aiming for?
To get my work 'out there'.
How will you get there?
Still working on that . . .
Is anything holding you back?
I'm pretty bad at self promotion.

You and art
What feelings or reactions do you hope to arouse in people who view your work? Are you ever surprised by reactions that you get?
Astonishment that there is no paint used on the sculptures at all and that no chicken wire is used. All the wire is hand-woven from lengths of garden wire. I love it when they are amazed at how life-like most of them are.
From start to finish, how long does it take for you to create your work?
Approximately two to three weeks, depending on size.
What music do you like to listen to when you work?
Capital Radio (and Wave 105 for more chilled out music) and I love listening to comedy while I work, such as the News Quiz on Radio 4. Currently looking for a good audio book to listen to.
What are you working on next? Any future plans or projects in the pipeline that we should look out for?
I'm currently working on a large Cromer Crab that has been requested by a Gallery in Port Solent (they are currently exhibiting my last piece, a Manta Ray).
Future projects are to give more demonstrations and home workshops. Anyone can have a go if I teach the technique, it's fun and amazingly simple in principle, all you need is enthusiasm and a desire to create!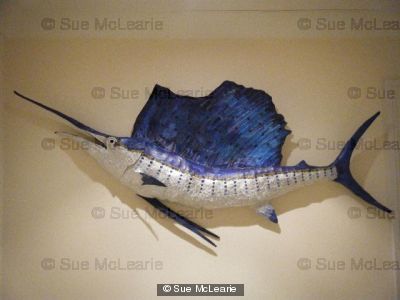 Being inspired by art
Who (living or dead) inspires you? and why?
David Shepherd. An amazing artist and wildlife conservationist.
What feelings, subjects or concepts inspire you as an artist?
The natural world is a constant inspiration. Having enjoyed a lifelong passion for wildlife, I've been drawing, painting and sculpting animals in various mediums since childhood.
Travelling is a passion and over the years various creatures from all over the world have been photographed and stored away for future projects.
What is your favourite work that you've produced so far and why?
The 'Dormouse in nest'. It's the smallest thing I've created so far and has the 'aaah' factor. I sometimes add printed text taken from magazines if I find appropriate wording. This had the wording 'fluffy and golden', 'treats to hibernate with', 'homemade bedroom' etc. in places around the nest.
an artist's advice
For those thinking about turning a passion for art into a career, could you give any advice?
Not really, only 'go for it' if you can afford to. I'm lucky in that I am subsidised by my hard working husband in the lean times.
Any tips on how to get your work seen and get the commissions coming in?
Still working on that too . . . could do with some myself!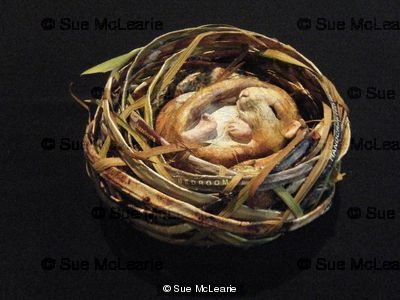 Thanks Sue!
More of Sue's delightful creations and further info on her talks and demos can be seen over on www.suemclearie.co.uk