Being an artist
Please give us a few words of introduction about yourself
I studied Visual Arts at degree level a very long time ago and then turned my back on the creative world to join the masses in the corporate world…. Ten years' on I have come back to what I always wanted to do create, create, create.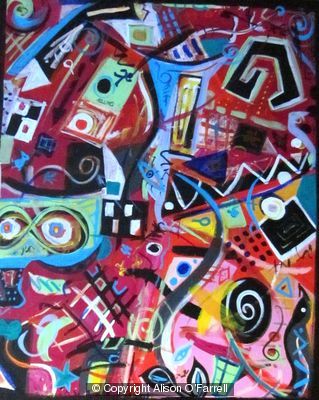 How and when did you start out as an artist?
Background in art.
What training did you have?
Various diplomas and BA Hons degree in Visual Arts.
What has been your best creative achievement so far?
Building a lively and interesting portfolio.
General Questions
What's your favourite quote?
You're a long time dead.
Who is your favourite artist?
Andy Warhol.
What are you aiming for?
World domination!! Failing that, making a living through my art would be an absolute honour.
How will you get there?
Hard work, persistence and being 'out there'.
Is anything holding you back?
This small thing called money!
You and art
What sort of reactions do you get to your work? are you ever surprised?
Ooh that's a lively one and have you ever tried your hand at pig farming….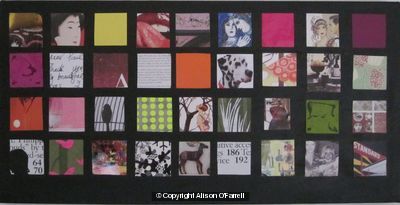 From start to finish, how long does it take for you to create your work?
As long as it takes.
What music do you like to listen to when you work?
Joy Division, The Smiths,The Velvet Underground, Sting,The Police, Franz Ferdinand, Johnny Cash, Echo & the Bunnymen, The Strokes and much, much more….
What is next in the pipeline for you? Any new directions or shows coming up?
Looking for freelance commissions for newspapers, magazines, editorial etc.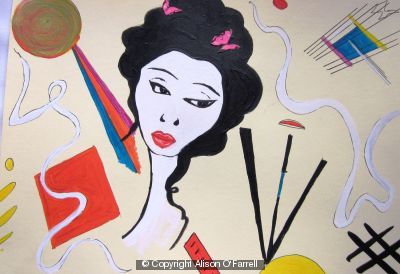 Being inspired by art
Who (living or dead) inspires you? and why?
Andy Warhol – the awkward outsider who made being an oddball and shy very appealing.
Frida Kahlo – defiance in the face of adversity.
Tony Wilson – clever quotes and subversive tendencies.
Morrissey – never afraid to be different!
What feelings, subjects or concepts inspire you as an artist?
All the 'isms plus a large dose on insanity.
What is your favourite work that you've produced so far and why?
Shake, Rattle & Roll – I like the colour and the expressive freedom of the marks made on canvas. Very different from my usual work which is quite graphic and tight.
an artist's advice
Have you got any advice for those starting out as an artist?
Patience, a big bank balance and get your face out there.