See more of John Jacques' designs at www.radiancefurniture.co.uk

Being a crafts maker
Please give us a few words of introduction about yourself
Radiance Furniture Design is a new studio/workshop based on the edge of the cotswold in Wiltshire. We design and make innovative, contemporary and timeless pieces of furniture mainly out of solid wood, although we're happy to use veneer if the design requires it. Our furniture is designed to enhance and preserve the natural beauty of wood, using it as natural art to be framed in a functional item. Wood itself, is natural art in a highly usable and functional form, so creating timeless, beautiful, useful furniture from it is a continuation of its inherant, natural character. So thats what I love to do! I work to commission and also speculatively for exhibiting and sales and enjoy working closely with a client to create something personal for them.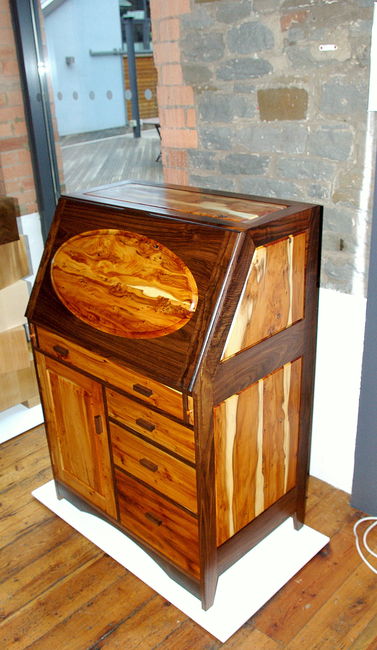 When did you decide to pursue making crafts as a career?
Several years ago when I found that carpentry wasn't generally a creative and satisfying occupation for me.
What training did you have?
As well as carpentry and joinery qualifications I spent 3 years studying furniture making in Bristol.
What has been the high point of your career so far?
My first commission and being in the 'Inspired' exhibition at Westonbirt Arboretum.
General Questions
What's your favourite quote?
The universe is transformation; our life is what our thoughts make it. – Marcus Aurelius Antoninus
Who is your favourite artist?
Salvador Dali.
What are you aiming for?
A happy living.
How will you get there?
By enjoying the process and trying 'listen to my heart' at every step.
Is anything holding you back?
I've only recently started out, so at the moment lack of clients!
You and making crafts
What feelings or reactions do you hope to arouse in people who view your work? Are you ever surprised by reactions that you get?
I enjoy seeing peoples reactions to my work. Often there is surprise and amusement (in a good way!) by the unexpected shapes and designs as well as the beauty of the wood itself. And also people are drawn to touch my work which I encourage. Wood is a beautiful and tactile material and part of its sensory appreciation is the sense of touch. Also smell is often commented on and I use cedar of Lebanon in the drawers for that reason.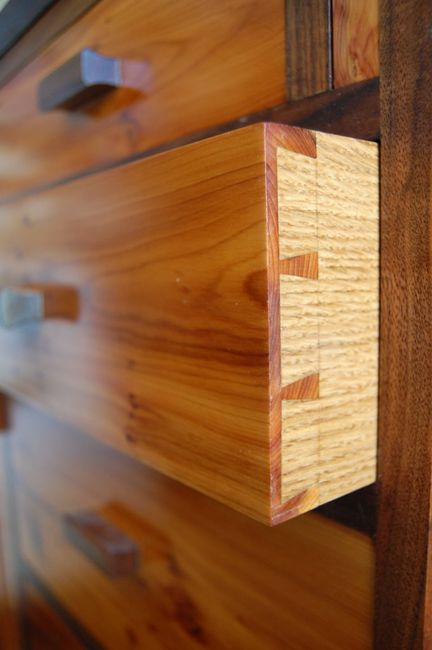 From start to finish, how long does it take for you to create your work?
It varies between a week or so to several months.
What music do you like to listen to when you work?
Classical these days, if any.
What are you working on next? Any future plans or projects in the pipeline that we should look out for?
I've got a couple of designs in mind I would really like to make. A lovely bright and modern desk is the next thing I'd like to make speculatively or if a client required one!
Being inspired by making crafts
Who (living or dead) inspires you? and why?
The Arts and Crafts movement of course. Also many modern makers who set the standard for modern furniture designer/maker including John Makepiece, Waywood, David Colwell, and many others.
What feelings, subjects or concepts inspire you as a crafts maker?
A deep appreciation for the natural beauty of wood.
What is your favourite work that you've produced so far and why?
I think the Bureau and the 'Stack' equally as they both have their separate qualities. The bureau is a adaptation of a classical design for the modern home but its construction is almost entirely traditional, with hand cut dovetails and a lot of craftsmanship and time in it.
The Stack is a very original contemporary design with great adaptability and quirkiness. they both show off the beauty of the timbers used.
a crafts maker's advice
For those thinking about turning a passion for making crafts into a career, could you give any advice?
I think passion and enjoyment show through in your work. So keep enjoying it!
Any tips on how to get your work seen and get the commissions coming in?
Not yet! Exposure is the main one I think. Also every piece you sell is an advert for you so builds up as time goes on.