See more of Mo's works at https://mowelch.theartistsweb.co.uk/
Being an artist
Please give us a few words of introduction about yourself.
Mo Welch, that's me and I cannot believe I will be 60 this September 2015!!!
Yet my passion for painting has never dwindled. In fact I have more passion than ever.
I have always been 'arty ' since I can remember, I took after my dad.
At 17 I went to Art College and had 4 brilliant years being involved in all kinds art for the Foundation year and Fashion Design for 3 years. I love doing fashion illustration, that is what I wanted to end up doing but after college and a few years working in London's 'rag-trade', I returned to my hometown in Hampshire and for about 17 years worked in residential homes, schools and colleges with youngsters and adults who had learning difficulties.
However, 16 years ago in 1999 I got a job as Art & Design Technician in a 6th form college on half the salary I was enjoying at the time,( people thought I was mad!!) but I soooo wanted to get back into the art environment and I loved it. I had continued all my life with little art projects, however, this new position inspired me to continue with my painting. I have also been able to teach the students during this time with a few hours or more available to me most years.
My fashion design experience has helped me develop the style I now paint.
My African collection was inspired by trips to Kenya and the Gambia and I am intrigued by African beauty.
I will take on any subject as I love the challenge and to stretch my artistic skill and ability.
When did you decide to pursue art as a career?
I would say it's a hobby rather than a career at the moment as I am employed in the week as an art & design technician at a 6th form college. I have always painted since a youngster but began to paint on large canvas with acrylics after being commissioned for a friends restaurant and it took off from there about 16 years ago.
What training did you have?
I went to Southampton Art College in 1972 for 4 years. I year art foundation course and 3 years fashion design. I worked in the fashion design 'rag trade' in London in the late 70's for Yuki and Frank Usher
I have also studied life drawing and ceramics at evening class.
What has been the high point of your career so far?
Having my website mowelch.theartistsweb.co.uk
It has allowed my work to reach places like Australia and Canada.
Also my solo exhibitions.
General Questions
What's your favourite quote?
'I hope the end is joyful and I hope never to return.'
Frida Kahlo. In fact any quote from this fascinating woman.
Who is your favourite artist?
Tamara de Lempicka, Picasso, Khalo amongst many.
What are your artistic goals?
To be able to paint full time and earn a living from my passion.
How will you get there?
By continuing to work hard and take every opportunity to get my name out there!!!
Is anything holding you back?
Finances. Lack of!!!!
You and Art
What feelings or reactions do you hope to around in people who view your work? Are you ever surprised by the reactions  that you get?
I'm just happy that my work gives people pleasure when they see it. I hope I paint things of beauty and quality.
From start to finish, how long does it take for you to create your work?
Hours and hours, I couldn't say. Some maybe 30 to 40 hours, some I think i've finished but decide I haven't and return to it. I can spend a whole evening on a face and return to it the next day, not like it and go over it again, and again. Painting hands can take forever sometimes and changing the tip of a nose or shape of a mouth time after time until I'm happy with it, I 'm a bit of a perfectionist to say the least!!!!!!
When I try a new style or collection the first idea can take forever, layer over layer, change of colour many times, texture, etc., but once I am happy with the result the following similar style pieces are less stressfull!!
What music do you like to listen to when you work?
I don't listen to music at all when I am in my studio. I need to concentrate solely on whats in front of me and concentrate. I have tried listening to my Greek language CD whilst working (I have been learning it for many years) but I find I can't concentrate 100% on both.
What are you working on next? Any future plans or projects in the pipeline that we should look out for?
I am hoping to have a stall at the 'FIRLE VINTAGE FAIR', which is just outside Brighton. 8th & 9th AUGUST 2015.
This company asked to use my artwork for the flyers and advertising which I was happy to and because of this I now have many followers.
Prints of my work, the 20's collection, will shortly be available online. Unfortunately I don't have the web information as yet.
Also my images on vintage greeting cards, coming soon.
Being Inspired By Art
Who (living or dead) inspires  you?
Anyone who never gave up and anyone who never gives up!!!
What feelings, subjects or concepts inspire you as an artist?
I am inspired by beauty, elegance, shapes, textures, people and the past.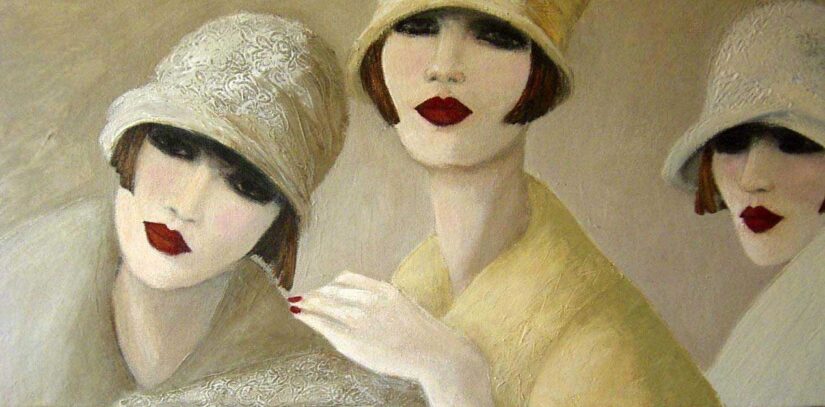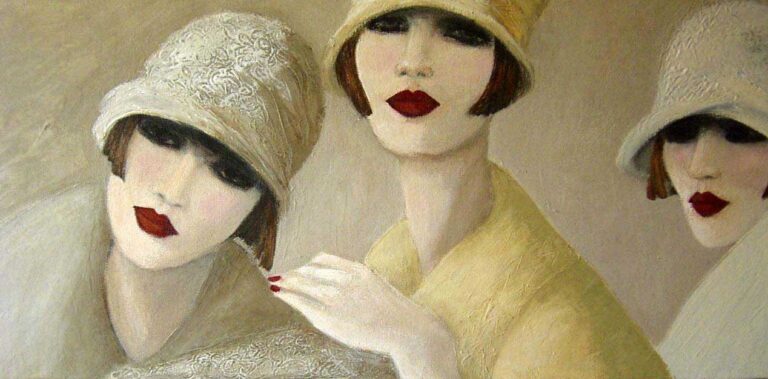 What is your favourite work that you've produced so far and why?
My collection of 1920's Deco women have been the most popular around the world and i just love to paint this era having studied fashion design all those years ago.
An Artist's Advice
For those thinking about turning a passion for art into a career, could you give any advice?
Keep at it, find inspiration, paint day and night and every spare minute to perfect your skill, your style and expertise then you will find confidence to market yourself and get noticed.
And look at your finished artwork in a mirror!! Seeing it in reflection, you may want to change it!!!
Any tips on how to get your work seen and get the commissions coming in?
Website, local galleries ,shows, fairs etc. Paint for friends, friends of friend. Look and find opportunities. They rarely come to you!!!!
Say yes to opportunities for showing your work even if not paid for it. A wedding magazine used a 20's image for a vintage wedding page and a vintage fair has used my images of 20's women for invites and tickets and poster etc, also a Theatre production. My name and website are added so people can contact me. It widens advertising.