See more of Jane Cordery's work on her website: www.janecordery.com
Being an artist
Please give us a few words of introduction about yourself
I am an expressionist artist inspired by the landscape around me. I work mainly in acrylics or mixed media and am fascinated by the way light and seasons change landscape forms and the feel of a place. I am generally concerned with capturing the mood of place at a particular time and tend towards abstraction in my work as this helps focus on the sense of a place, rather than the reality of the image. My work often tends to have a strong horizontal, vertical or diagonal line to it.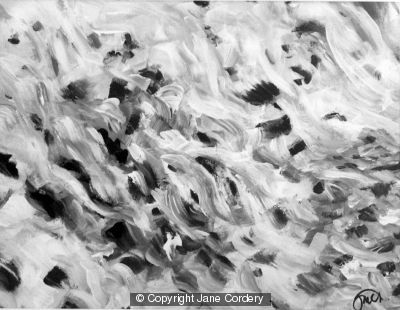 How and when did you start out as an artist?
I have always had a fascination for art, wanting to express things I am interested in by drawing them and have dabbled in various night schools throughout my life but ironically, I started my art seriously when taking my son and his friend to an A'level adult education course and decided I might as well do it myself! I have never looked back – since achieving my A'level I have carried on with studio practice working either alone or in small tutorial groups and have recently begun to sell some work.
What training did you have?
I studied for my Art A'level in the evenings at The Cube in Folkestone but will be commencing a Fine Art Degree in September 2012 at Tonbridge in Kent. Aside from that I have received tremendous support and guidance over the last 5 years from my tutor, British artist, Laura Gethen-Smith.
What has been your best creative achievement so far?
Winning First Prize at Rolvenden Art competition was a real high. Aside from that selling work at group exhibitions has been a real encouragement – the fact that people want to pay to have my art on their walls! This year I plan to focus on entering some major art exhibitions to test myself – its always good to have something to aim for, it gets the creative juices going!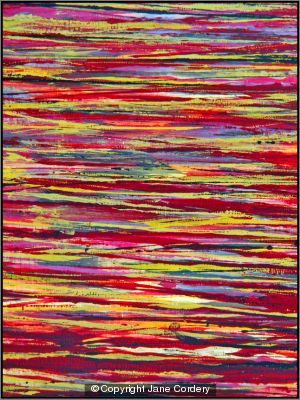 General Questions
What's your favourite quote?
Eleanor Roosevelt's 'Someone once asked me what I regarded as the three most important requirements for happiness. My answer was: A feeling that you have been honest with yourself and those around you; a feeling that you have done the best you could both in your personal life and in your work and the ability to love others'
Who is your favourite artist?
This is a difficult one but overall probably Mark Tobey.
What are you aiming for?
To give up my professional life to focus on my art and to give something back to the community through my art – it may take some years but I will get there eventually!
How will you get there?
By dedicating every spare moment I have to my art, by being energetic and not giving up and by being 100% focussed on what I want to do.
Is anything holding you back?
Money and time! But I am reaching the age where money is becoming less important and time is running out so it won't hold me back for long!
You and art
What sort of reactions do you get to your work? are you ever surprised?
I am constantly surprised by the reaction I get to my art from those I esteem, it never seems good enough to me to be worthy of their comment and I find it's a lot easier to judge other peoples work than your own. Judging your own ability is something that is gained by experience – I feel I have a long way to go yet.
From start to finish, how long does it take for you to create your work?
This depends enormously. Some of my best pieces have been created in 10 minutes flat and often working with a spoon rather than a paint brush! However, other pieces of work – particularly some of my acrylic prints, will take hours or days – layering as many as 30 to 40 prints on top of each other.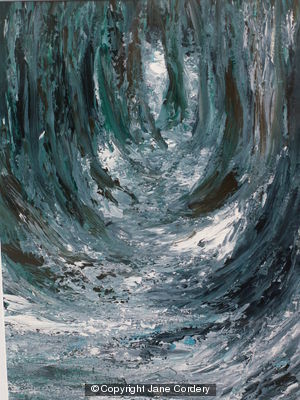 What music do you like to listen to when you work?
This depends on whether I am looking to paint reflectively – in which case it will be classical – or to provoke an emotive response – in which case it will be something like Muse.
What is next in the pipeline for you? Any new directions or shows coming up?
I have a joint exhibition coming up in mid July at Whitstable and will then move on to planning my first solo exhibition.
Being inspired by art
Who (living or dead) inspires you? and why?
So many artists have inspired me – Van Gogh for his persistence in working in his style against all odds; Jackson Pollock for his inspired adventure with paint; Rothko for his dedication to his work and for not pandering to an audience; Ellsworth Kelly for his simplicity of expression and Mark Tobey for capturing the spiritual essence of nature so wonderfully and yet so simply.
What feelings, subjects or concepts inspire you as an artist?
The feeling of a connection between myself, as a human being, and the landscape around me – how it makes me feel, what memories it provokes, what thoughts are conjured up and how to express this best on a flat surface. It is the challenge of expressing that connection that inspires me to keep trying.
What is your favourite work that you've produced so far and why?
'White water' – its on my web-site. I was experiencing an 'artist's block' and my tutor advised me to go back to black and white and just enjoy playing with paint – what a wonderful piece of advice. Out of this came a rushing, gushing form of water rushing playfully over stones in a river bed. I have no idea where it came from within me but I love looking at it and it inspires me in my lowest moments.
an artist's advice
Have you got any advice for those starting out as an artist?
Don't let others people work put you off – you are always going to find work that you feel you simply just can't beat, that they have pulled off work totally out of your league. What you don't know is what you have yet to pull off!