In this spotlight interview, artist and architect Sophie Coe talks to us about her practice, and how the two strands of her creativity balance and support each other. You can see more of Sophie's work at http://www.sophiecoe.co.uk/.
Being an artist
Please give us a few words of introduction about yourself…
I'm Sophie, Artist and Architect, I've worked all over the place but now based in London.
When did you decide to pursue art as a career?
I never have really, always been trying to find a balance between fine art & architecture. I enjoy the freedom of not having to make a living out of it.
Did you train in the arts? If so, what and where did you study?
I did a foundation course (Diploma) in Art & Design in Bournemouth when I was younger and then switched to Architecture. More recently a 10 week course at the Slade and a couple of short printmaking evening classes. Otherwise self-taught over a long time and still learning.
What has been the high point of your creative career so far?
There's no one point that stands out, just lots of little things: With art – the first time I felt I'd really captured something, then the first sale, gallery representation, solo show, large commission.. and every time someone sends me feedback of how much they love their newly purchased picture.  With architecture it's seeing it all come together and the finished buildings and the happy clients.
General Questions
Do you have a favourite artist? What do you like about their work?
Too many to mention. Rodin for his figures and the exaggerated expression in the hands and the pose. Antony Gormley for ideas and perception of space, William Kentridge for his short films in charcoal, Katsushika Hokusai for design, Ran Ortner for his amazing paintings of the sea.
You and art
What feelings or reactions do you hope to arouse in people who view your work? Are you ever surprised by reactions that you get?
I always want my work to be more about what the subject feels like rather than what it looks like – about the things you couldn't necessarily capture in a photograph. I did a series on the rainforest a while ago and was really happy to hear someone who'd spent a long time travelling through it in the amazon telling me they felt they were back there, even though the images had become quite conceptual.
With the figurative work I want to capture whatever I feel is interesting about the pose, it might be weight, tension, emotion, movement, fragility… Sometimes it's more interesting and more immediate if anything redundant to that idea is simply left out.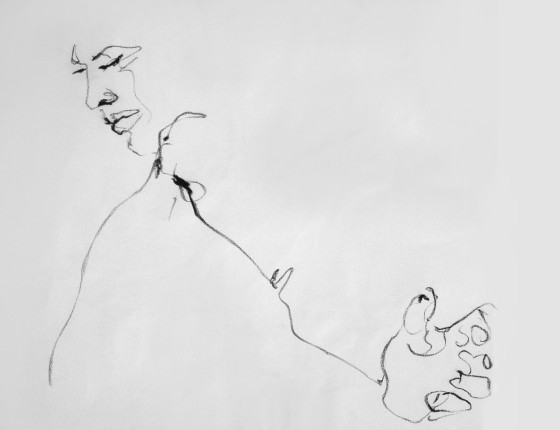 What mediums do you prefer to work in, and why?
I love compressed charcoal for drawing at speed. Mono-printing for just playing with limited time. Oil painting when working through a conceptual idea for the ability to keep working on it over an extended period. Although I'm new to painting and have yet to find my feet with it.
From start to finish, how long does it take for you to create your work?
Figurative drawings- anything from a minute to 20 minutes. The mono-prints are quick too. Oil paintings- on and off over a number of days, then I keep wanting to start again with a new piece evolving the same idea until I've approached what feels like some sort of conclusion.
What music do you like to listen to when you work?
Anything to stop my mind wandering, with a quick pace for drawing.
What are you working on at the moment?
I'm playing at the moment with mono-prints.
Being inspired by art
What feelings, subjects or concepts inspire you as an artist?
Nature, life, memory and perception.
Is there a particular place that inspires you?
Almost everywhere
What is your favourite work that you've produced so far and why?
I quite like this quick drawing for its' contrast – the harsh scribble of the wash to give it substance/weight and the delicate almost fragile outline on top.
An artist's advice
For those thinking about turning a passion for art into a career, could you give any advice?
I'm not the person to ask this question because after a 6 month stint I realised I didn't want to make it full time, at the moment at least, for me it's easier to maintain that passion if it's not. I would just say never stop creating, be true to yourself, and maybe it doesn't have to be?
Any tips on how to get your work seen, and to start getting commissions?
I just walked into loads of galleries in Sydney with an A4 folio of photographs of work and that got me represented. It doesn't feel right to try that in London. Here I've sold direct through the website, from work on the wall in public spaces, word of mouth and though a few links in the design/construction industry.