See more of Amanda's work at: www.HughesLubeck.artweb.com
Being an artist
Please give us a few words of introduction about yourself
I am a sculptor of clay with 26 years experience creating sculptures in ceramic.
In October 2010 I decided to move into creating sculptures for bronze in a more contemproary style.
When did you decide to pursue art as a career?
I have always been interested in art. Born in Stoke-on-Trent was an advantage becuase of the wealth of artistic ability in the area. I was introduced to clay at a young age and developed a passion for sculpting in clay.
What training did you have?
I trained at the sir henry doulton school of sculpture under the guidance of Dame Elizabeth Frink.
What has been the high point of your career so far?
Creating the bronze knight award for Intercontinental Hotels Group.
General Questions
What's your favourite quote?
'believe it or not, I can actually draw.' Michelangelo
'The artist is nothing without the gift, but the gift is nothing without work' Emile Zola
Who is your favourite artist?
Henry Moore, Michelangelo.
What are you aiming for?
I would like to be know and respected for the quality of my work in sculpture.
How will you get there?
I have been creating a new body of work which I will launch in February at the Spring Fair NEC. I also have a number of show stands in 2012 including Crufts, CLA Game Fair, The Animal Art Show.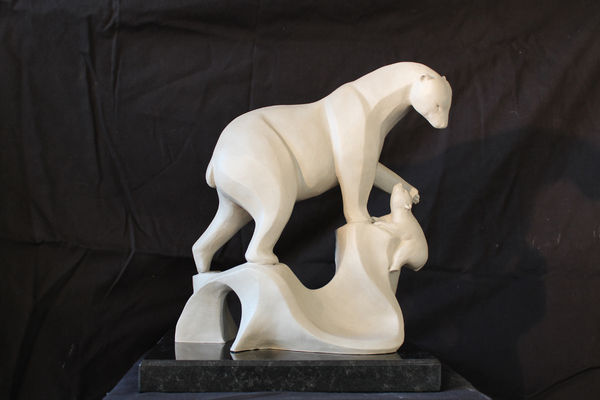 Is anything holding you back?
Finance is the biggest stumbling block for a sculptor in bronze, because the moulding and casting costs are so high. It also takes a while to create a new sculpture.
You and art
What feelings or reactions do you hope to arouse in people who view your work? Are you ever surprised by reactions that you get?
People usually enjoy my work. I would like to provoke a reaction that people like to look at my work enough to buy it.
From start to finish, how long does it take for you to create your work?
It can take anything from a week to 8 weeks to create each clay sculpture. It is then moulded, and cast into bronze using the lost wax method, which takes about 6 to 8 weeks.
What music do you like to listen to when you work?
I often listen to Heart FM, because it has a general mix of music and current affairs. I listen to it on didgital, which gives me a radio connection to London too.
What are you working on next? Any future plans or projects in the pipeline that we should look out for?
I am continuing to work on my abstract animal sculptures, and equestrian works. I am currently working on a running horse.
I have big plans for 2012 if my finances hold out, for various shows and exhibitions. I will be entering a number of competitions including the SEA and wildlife artsts. I have also entered Show me the Monet, so I keeping my fingers crossed that all goes well…..its going to be a big year!!!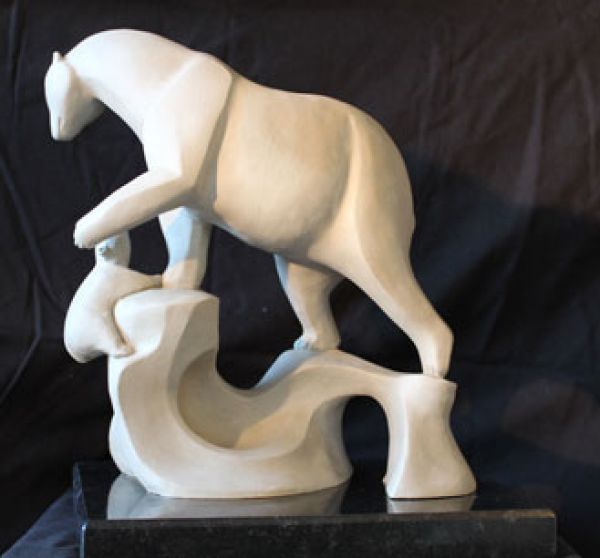 Being inspired by art
Who (living or dead) inspires you? and why?
I am inspired by anybody with a positive mental attitude. People who are successful dispite setbacks. People who keep their main passion at the forefront of their mind.
What feelings, subjects or concepts inspire you as an artist?
I am inspired at the moment by the frozen planet. The struggles of the animals living in a changing environment, which they have little control over.
What is your favourite work that you've produced so far and why?
I really enjoy creating sculpture with movement and a high degree of difficulty. I also enjoy abstract sculptures like Henry Moores work. This is why my recent works are animal based, but with a contemporary edge. My favourite piece is Plight of the Polar bear.
an artist's advice
For those thinking about turning a passion for art into a career, could you give any advice?
Decide what you want to achieve in your career and focus on it. Set yourself goals and time lines, long term and short term, to achieve this. Stay focussed on your goal and illiminate any negativity which surrounds you.
Any tips on how to get your work seen and get the commissions coming in?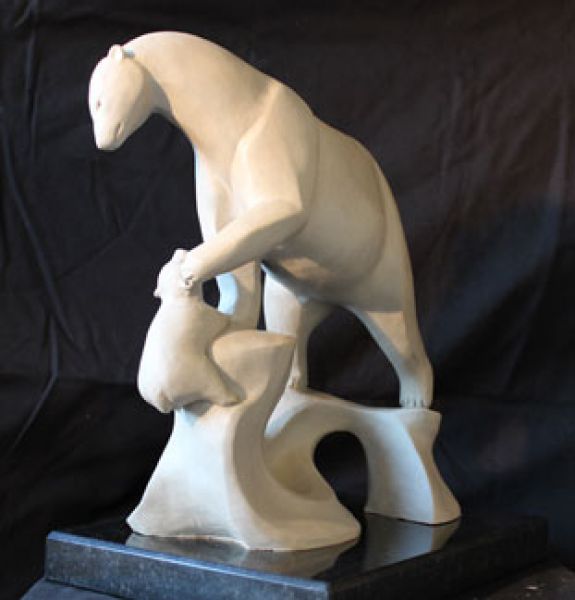 The internet is a global window to your work and you as an artist. There has been no better time to promote yourself than right now.