Being an artist
Please give us a few words of introduction about yourself
I'm a ceramicist making small and large ceramic sculptures for indoor and outdoor environments. My studio is in Normandy, but I exhibit mainly in Britain, so I spend a lot of time crossing the channel.
When did you decide to pursue art as a career?
I had been running a restaurant in Brighton for more than ten years and taking pottery evening classes. When I became worn out with catering, I sold up and went off to university to study 3D Design.
What training do you have?
Initially I did an HND in 3D Design, then I went on to do another 3 years to get my degree in the same subject at Brighton University. I then did a Post Graduate Certificate in Higher Education.
What has been the high point of your career so far?
Getting into RHS Chelsea Flower Show to exhibit my work this year!
General Questions
Who are your favourite artists?
Ron Mueck, Karl Blossfeldt.
What are you aiming for?
To make a decent living from my work.
How will you get there?
By continuing to make new work that excites people enough to buy it.
Is anything holding you back?
Only the speed at which I can work!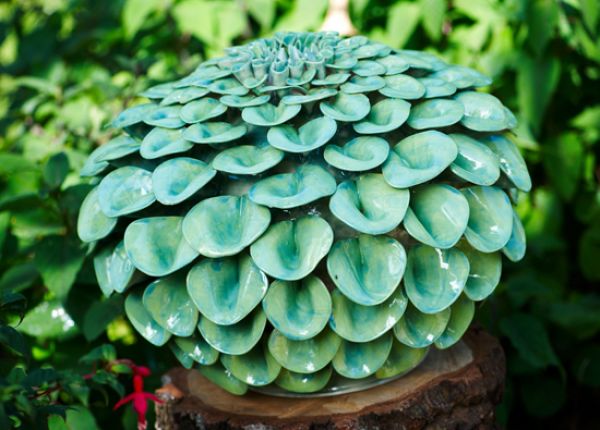 You and art
What feelings or reactions do you hope to arouse in people who view your work? Are you ever surprised by reactions that you get?
I like my work to have an initial wow factor, but then for people to understand what I am trying to represent.
From start to finish, how long does it take for you to create your work?
Can't possibly say . . . it depends on the weather, how detailed it is, how long it takes to dry out, etc.
What music do you like to listen to when you work?
I don't . . . it's Radio 4 all the way.
What are you working on next? Any future plans or projects in the pipeline that we should look out for?
All my energies are concentrated on the Chelsea Flower Show at the moment, and I also have an Open House during the Brighton Festival. I am doing a sculpture trail at the Sussex Prairie gardens in the summer and then several shows in the autumn.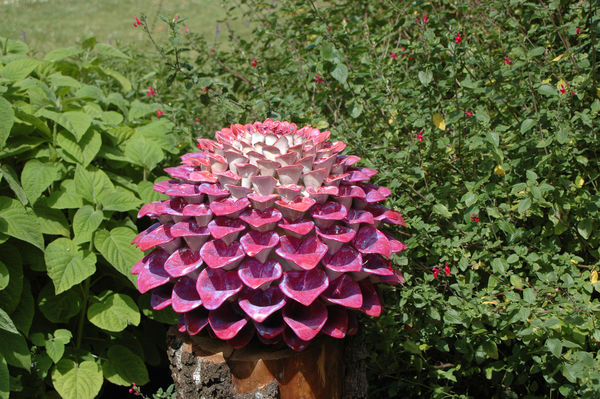 Being inspired by art
Who (living or dead) inspires you? and why?
Apart from the artists I mentioned earlier, my inspiration tends to come from the garden or from other friends who are ceramicists and artists.
What feelings, subjects or concepts inspire you as an artist?
The beauty of nature, the life cycle of plants, the intricacy and patterns inside flowers, the clever protectiveness of seedpods.
What is your favourite work that you've produced so far and why?
It's always the piece I am working on.
an artist's advice
For those thinking about turning a passion for art into a career, could you give any advice?
It's a very hard way to make a living . . . you have to be so focused and be able to discuss your work objectively if sales are not going well. If they are, you have to learn how to price properly.
Any tips on how to get your work seen and get the commissions coming in?
You have to find the right galleries for your work and with luck the good ones will represent you at the art fairs. You have to build and continually raise your profile by having a good website kept up to date, a blog with a link to a website, and Facebook.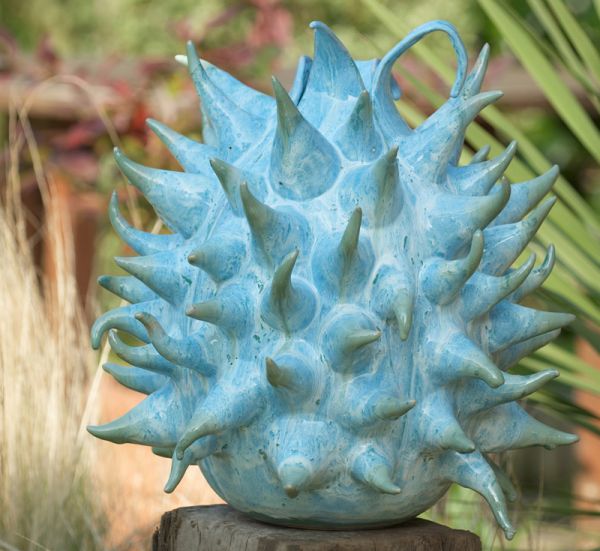 Thanks Frances!
You can see more of Frances' delightful pieces at www.francesdoherty.co.uk and on show at Brighton Open Houses on weekends throughout May.