See more of Julia's work at www.juliabellamy.co.uk
Being an artist
Please give us a few words of introduction about yourself
I am a collage artist who lives and works in Brighton.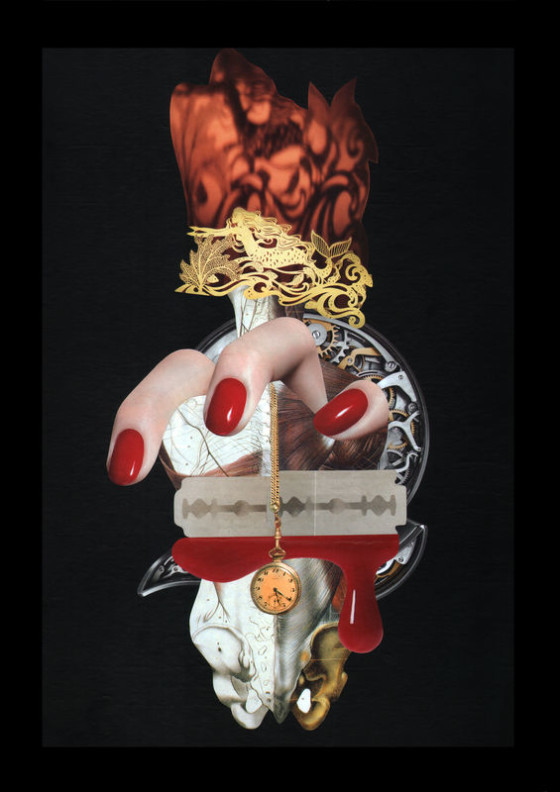 When did you decide to pursue art as a career?
At school when I started to create my first collages.
What training did you have?
I am a professionally qualified photo designer and graduated from the University of the Arts in Berlin.
What has been the high point of your career so far?
When a London curator invited me to show my work in an exhibition on erotic art.
General Questions
What's your favourite quote?
"Collage is a supersensitive and scrupulously accurate instrument, similar to a seismograph, which is able to record the exact amount of the possibility of human happiness at any period."
(Max Ernst quoted in Sarane Alexandrian Surrealist Art 1970)
Who is your favourite artist?
The German Dada Artist Hannah Höch whom the Guardian once called "art's original punk" ☺
What are you aiming for?
I am aiming to show my work internationally.
You and art
What feelings or reactions do you hope to arouse in people who view your work? Are you ever surprised by reactions that you get?
I would be very happy if my work inspired people to think about their own identity. Who am I? And what makes me me?
From start to finish, how long does it take for you to create your work?
I usually work on a couple of collages at the same time so I will need at least a week to complete them.
What music do you like to listen to when you work?
I like Indie Music so everything from Arctic Monkeys to Editors.
What are you working on next? Any future plans or projects in the pipeline that we should look out for?
I want to set up or join an art collective to collaborate and exhibit together.
Being inspired by art
Who (living or dead) inspires you? and why?
Frida Kahlo has always been a great inspiration as she showed me how to express emotions in art.
What feelings, subjects or concepts inspire you as an artist?
Surrealism, the Subconscious and the Psychology of Sigmund Freud and Carl Jung inspire me.
What is your favourite work that you've produced so far and why?
At the moment my favourite collage is probably "in the beginning was the end" as it is a homage to my recently deceased father who I miss dearly.