See more of June's work at www.junerussellprintmaker.co.uk
Being a print maker
When did you decide to pursue print making as a career?
I've always been interested in printmaking, since I was young. I learned etching and lino printing at art college in the early seventies, when British printmaking was making a real stir, but I took it up as a major art form rather than a sideline in the late 90's when I studied for my Masters degree.
What training did you have?
I went to art college in 1970, when I left school, to study for a Diploma in Art & Design in Coventry. Printmaking was taught then, but was seen as a 'vocational' subject! I didn't complete my course and eventually changed direction altogether – taking an English degree and working as an English teacher until the late 90s. I then took up art again, and gained an MA in Printmaking at Bradford.
I've just completed a Fellowship at Bradford, as part of the national AA2A scheme.
What has been the high point of your career so far?
There have been a lot of ups and downs in my career. In a way, every exhibition is a high point. I suppose my favourite moment was being part of a wonderful group show at York Art Gallery on the theme of urban landscapes, where I was showing in the company of artists I admired and almost all my work sold
General Questions
What's your favourite quote?
'I wake up every morning determined to change the world and have one hell of a good time. Sometimes this makes planning the day difficult' E.B.White
Who is your favourite artist?
Difficult – I admire so many. if forced to choose I'd probably go for Degas, because of his use of line, colour and composition, and because his work has a detached stillness that I see in my own.

To make work that meets my own high standards of execution, and that please and intrigues those who see it. And to keep working and learning and making new things.
How will you get there?
It's a continuum and I'm in the middle of it.
Is anything holding you back?
Time and distractions
You and print making
What feelings or reactions do you hope to arouse in people who view your work? Are you ever surprised by reactions that you get?
I aim to make work that has what I'd call 'stamina' – that is, that people will find continues to interest and absorb for more than a quick glance. I also hope, by choosing unconventional subjects for landscape, to make people think again about what constitutes 'beauty'. I'm often surprised that work I see as likely to sell is passed over, while work I'm less sure will be popular is snapped up.
From start to finish, how long does it take for you to create your work?
It depends on the process I'm using how long it takes to make a print. With etchings and aquatints, making the plate is really laborious – it can take several days to get a plate etched just right. Then making an edition of prints from that plate will take another full day. Not to mention the work that has gone in to the original drawing and design of the image. It takes less time to create a drypoint plate, but you don't get so many prints from it.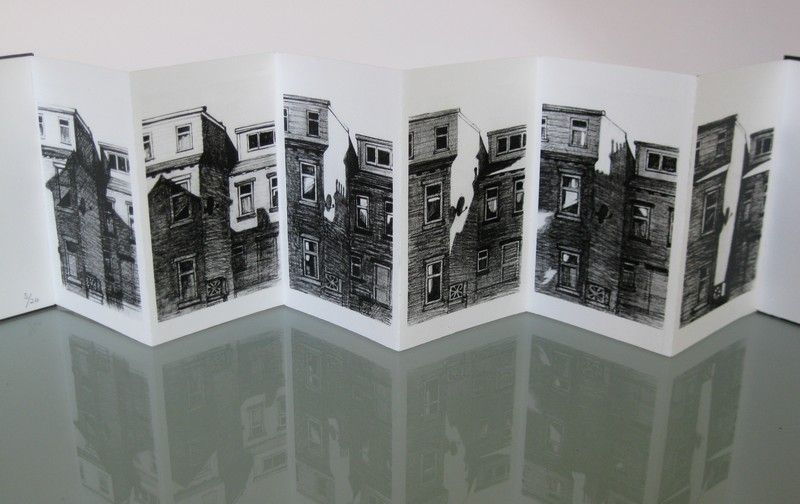 What music do you like to listen to when you work?
I like absolute silence when I'm working on the creative part of printmaking. Once I get in to the process of editioning, I can listen to music, and then I like baroque, although actually I'd rather listen to talk radio.
What are you working on next? Any future plans or projects in the pipeline that we should look out for?
I'm making some very tiny prints at the moment, for various shows, including the International Miniprint Exhibition, and Six Inch Cube, at South Square Gallery in Bradford. I'm also starting to use old prints as 'material' for new work in various ways, such as books and 3D structures. I don't know where this will go.
Being inspired by print making
Who (living or dead) inspires you? and why?
Jake Attree, a painter from Bradford, who first encouraged me to start work as an artist again and continues to to be an inspiration because of his energy, curiosity and dedication.
What feelings, subjects or concepts inspire you as a print maker?
All my work is about places. I am really interested in the meanings that places accumulate, just by being lived in, and how landscape is related to memory.
What is your favourite work that you've produced so far and why?
My favourite work is usually just my latest – because I'm still excited and surprised by it. All the work I've done about the Victorian crescent where I live – the 'Still' series of etchings, and the little books, 'City Light' and 'Crescent' – are works I'm very proud of.
a print maker's advice
For those thinking about turning a passion for print making into a career, could you give any advice?
Follow the passion, but be objective about your work – get it out there, talk about it, show off about it and make sure it's seen. Working with other printmakers and printmaking groups is good for learning, support and exhibition opportunities.
Any tips on how to get your work seen and get the commissions coming in?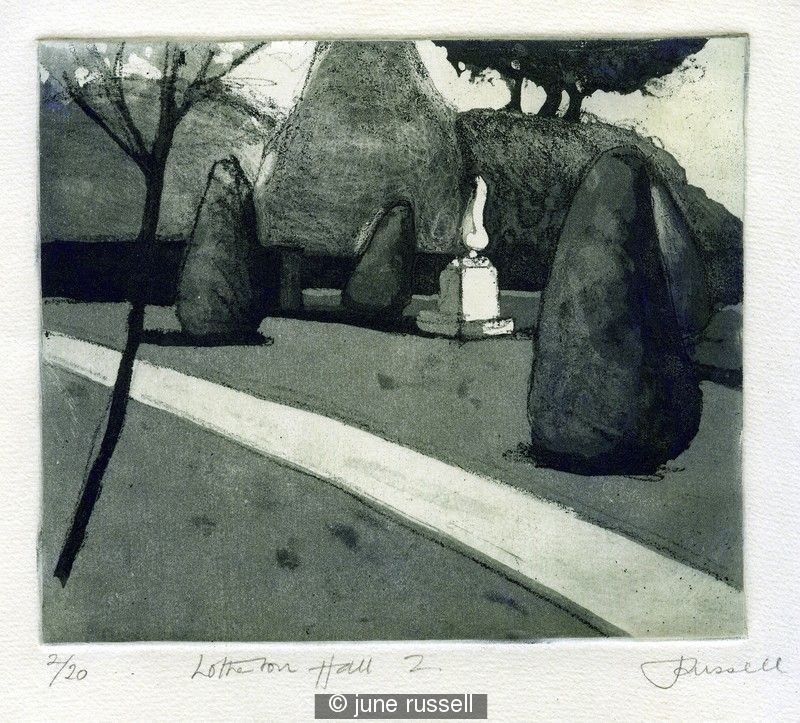 Just show as much as you can.