Jane Carlisle Bellerby is a silk artist who uses the landscapes and natural environment as inspiration for her dynamic and unique creations. Here we talk to Jane about her practice and background as an artist. You can see more of Jane's work at: www.janecarlislesilkart.co.uk
Being an artist
Please give us a few words of introduction about yourself
I'm a silk artist living in Nidderdale, North Yorkshire, depicting landscapes, monuments and elements of nature through hand-painted silk collage and mixed media.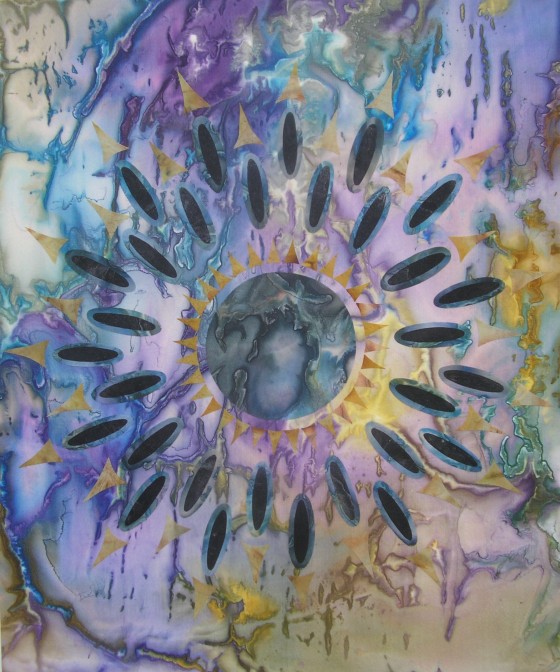 When did you decide to pursue art as a career?
As a child I was inspired by family art books and visits to galleries. I particularly loved the illustrative work of Aubrey Beardsley and Kay Nielsen. My rural environment also played a huge part in my creative development, from the Yorkshire Dales where I was raised to the mountain regions of the UK and France, walking every weekend and holiday whilst growing up. As I got older I felt the urge to convey what I saw and the energy I felt when I was immersed in the outdoors.
What training did you have?
I did my Foundation Diploma in Art & Design at Harrogate College, specializing in Textiles. I opted out of doing a textiles degree as I couldn't find one that felt right for me and eventually chose to study History and Theory of Art at the University of Central Lancashire in Preston. It was there that I developed my silk collage technique, influenced in part by the collage art I was seeing by artists like Max Ernst and Picasso.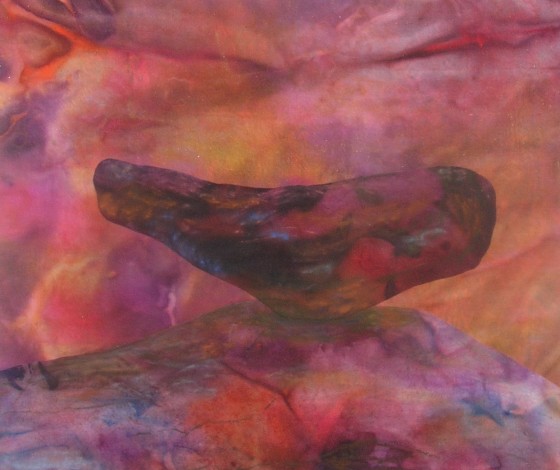 What has been the high point of your career so far?
I feel fortunate to have had many small creative achievements when people really connect with a piece and relay to me the story of why it's resonated with them. It's very gratifying to have generated a connection that way. I also enjoy working to create group exhibitions, creating visual impact in a bigger venue than normal and working with artists from different disciplines – I always loved the idea of the 1960's happening!
General Questions
What's your favourite quote?
"I have nothing to declare but my genius" attributed to Oscar Wilde.
Who is your favourite artist?
There are so many artists I feel influenced by for different reasons but my love of Beardlsey's work is still strong – his ability to depict something elegant, beautiful, cheeky or dark with an economy of line – conveying so much with so little.
What are you aiming for?
I aim to keep walking and discovering scenes, objects and atmospheres in places familiar and previously unknown. I aim to project that which I see and feel through my silk art, exploring how different mixed media can be used within the medium and creating work that connects with people in some way whilst saying something about our place within the natural world.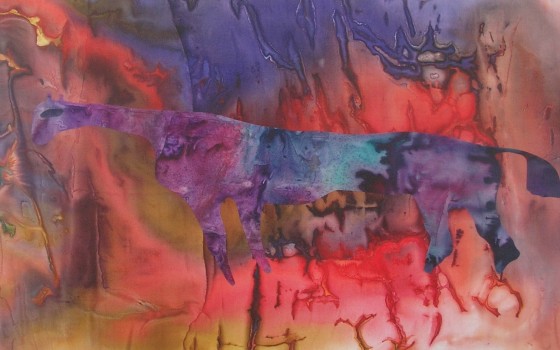 How will you get there?
I'll get there if I keep walking and working, aiming to work more fluidly and without self-imposed creative boundaries – just explore!
Is anything holding you back?
I am in no doubt that as my children get older I'll become as prolific an artist as I want to be!
You and art
From start to finish, how long does it take for you to create your work?
Every piece is different – between 2 & 15 hours – I work in fits and starts due to other family/work commitments and work on several pieces at once to keep things moving.
What music do you like to listen to when you work?
I'm a life-long lover of Led Zeppelin which always puts me in a creative frame of mind. I also like Radio 4 Extra and 6 Music.
What are you working on next? Any future plans or projects in the pipeline that we should look out for?
Next for me is involvement in my local Nidd Art Trail in Bewerley near Pateley Bridge 23rd-26th Aug and then Masham Arts Festival 25th Oct-2nd Nov in North Yorkshire – www.creativemasham.com.