In the Spotlight today is collage artist Marian Williams. See more of her work at www.marianwilliams.artweb.com!
Being an artist
Please give us a few words of introduction about yourself
The fun aspect of collage is that you can take anything out of its original context, reinterpret images and objects to create a new story with a twist. Using only authentic photos and illustrations from vintage and modern magazines and books, I create dynamic, striking and colorful collages. Classical art, retro chic and kitsch are combined in a challenging way which I like to call 'The Art of Inferior Decoration'.
How and when did you start out as an artist?
This all started only 2 years ago when there was place in my life to let the creativity out in collages; my favorite type of art.
My first exhibition was very successful and I received many encouragements, so I decided to continue. Two more exhibitions, commissions and art consultants followed.
What training did you have?
How the stars and heavens were inspirational until they were explained. I'd like to leave your imagination pure and free from my story, training or influences. Isn't it beautiful to stay creative !!!
What has been your best creative achievement so far?
So far the best creative achievement has been to express myself in solo exhibitions in France and the UK, with Holland coming up in May.
General Questions
What's your favourite quote?
Not everything that counts can be counted, and not everything that can be counted counts.
Who is your favourite artist?
Kandinsky.
What are you aiming for?
Being happy creating, and sharing my works and ideas with others.
How will you get there?
I go out to find interesting people and places to organise exhibitions, and share my works on the internet.
Is anything holding you back?
Absolutely nothing is holding me back !!!
You and art
What sort of reactions do you get to your work? are you ever surprised?
Reactions of 'Dada' and 'Popart' are common. People compliment me often on composition and movement. Most do not find me, but my observations in my works, and create their own story. These stories and interpretations are often surprisingly creative.
From start to finish, how long does it take for you to create your work?
Finding the right images is much fun but can take a while since I don't copy or download any. Once the idea and images are there, I finish a work in 2 or 3 days.
What music do you like to listen to when you work?
Minimalist techno.
What is next in the pipeline for you? Any new directions or shows coming up?
Next show will take place in Rotterdam, my place of birth. This show will be on from May till August. The opening will be a party for me and an opportunity as well to see many friends, family and new connections.
Being inspired by art
Who (living or dead) inspires you? and why?
I get my inspiration from images that are all around us and do not stop trying to brainwash me. Any living or dead person can be inspiring in relation to the context he or she is put in.
What feelings, subjects or concepts inspire you as an artist?
Emancipation of women and the way they have been portrayed over the years. The influence of mass media and mass consumption. The beauty and innocence of Gaia and the universe.
What is your favourite work that you've produced so far and why?
My first work 'The Cross' is my favorite, just like the first kiss…it stays special.
an artist's advice
Have you got any advice for those starting out as an artist?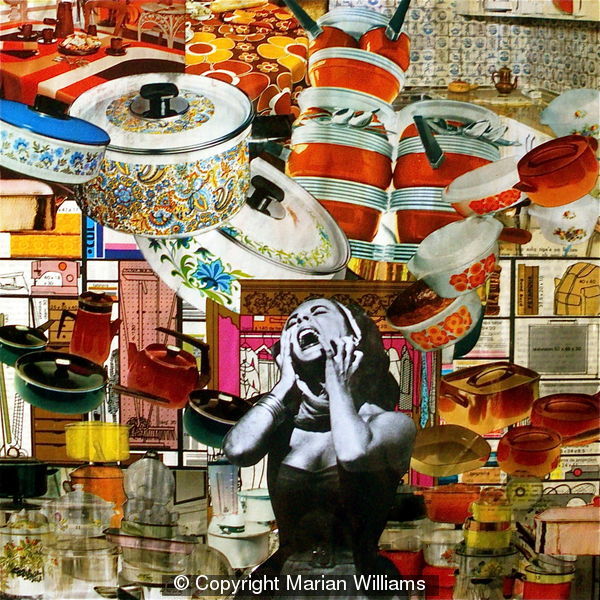 Have fun and follow your own ideas. Don't be afraid, if you believe in your work you have nothing to lose!