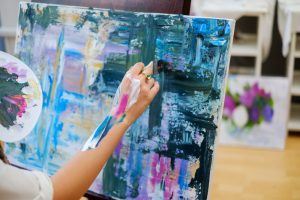 The exhibition date is set, the artwork is ready to install – so now it's time to generate some publicity. But chances are you may already be too late unless you think ahead and follow these simple rules to publicize your art through media coverage.
Getting media coverage of your art practice and upcoming exhibitions can seem impossible at times. Invitations to exhibitions or asking if someone wants to look at your work will often go unanswered as publications deal with hundreds of emails a day. So how do you stand out from the other starving artists?
There are literally thousands of possibilities when it comes to getting media coverage – and the truth is in that many publications and websites are in dire need of good quality relevant content. If you can make sure you can answer that brief, many publications will bite your hand off. And unless you are showing in a major gallery, even the smallest magazine will have more readers than attendees at an exhibition – so it will get your artwork in front of thousands of potential buyers. So here's an expert guide to successful promotion.
1. Ask yourself: what's the story?
A journalist learns a few simple rules to write a story – the what, the who, the when, the where and the why… So before a journalist asks you questions, you need to ask yourself a few. Who is your audience? Who is likely to buy your work and what publications do they read? Magazines are often the best option for artists as their glossy lifestyle pages and readership will show your art at its best  – and they will usually have a high-ranking website.
News and feature articles will usually need to explain why they are featuring your work and not the thousand other starving artists. Do you have a show coming up, an award in the offing or a noteworthy commission? Highlight it at the top of your story.
2. Be realistic – and choose the right titles
Are you going to get into Frieze magazine or is the local lifestyle publication or what's on website more probable. Don't be a snob! A simple diary entry in a 'what's on' section online, can quickly be elevated to a full feature, if the right information and visuals are supplied.
So what do you need? The reality of many publications is that they don't have the time and resources to interview, write and take photographs of you and your work for their magazines or websites. If you can supply a readymade article – a feature and high resolution photographs, it is far more likely to gain entry.
3. Think visual – after all you're an artist
The images are the real crux of your promotional operation. Don't be tempted to send in a selfie and a few snaps of framed artworks. Your artwork should be professionally photographed, but if that is out of your price range, try inserting your work into to a blank lifestyle shot that you can buy for pennies from stock image websites like Shutterstock and add a few carefully taken close-ups of your work in good natural light. Ensure images are high resolution and fully captioned.
A magazine is looking for 5-6 images and one should be of you. Aim for one of you with your work in your studio  rather than a head and shoulders shot. Photos of you at work in your studio (or kitchen table) are also a good choice.
The file name of each image should include your name and the name of work, size and materials, as applicable. You should also confirm copyright information confirming who took the picture.
4. Craft your copy to tell your story
Once your pictures are ready, it's time to consider what you will say. Many visual people struggle to write well. And sending in an artist's statement that is more at home on a gallery wall, will probably be too art-centric. Consider employing a professional wordsmith. They can write a purpose-built feature that includes a pithy headline and all the information needed in the right style. They should also have good contacts with journalists in the industry to make placing your feature easier. Expect to pay anything from £300 upwards for a 1,000-word feature. Pay a little more and a PR agency can also advise on photography. Remember anything created can be used on your own website and updated for future articles.
If that sounds like a big investment, try filling out the Q&A included below. It will give you an idea of what information you need. If you have money to spend, consider an advert – many magazines will offer free editorial if you are spending money with them.
5. It's all in the timing
A lot of artists will contact editors about an exhibition they have coming up within a few weeks, but magazines plan months ahead. There really is no such thing as too early: Christmas content begins in August. Content should be sent in at least six-to-eight weeks ahead of the date of any exhibition or event. If the magazine is bimonthly, you should double that. Even digital content will be planned ahead.
Veteran UK-based magazine editor Andy Cooper explains: 'We get literally hundreds of emails from people wanting us to cover events and it's unlikely that we will be able to attend more than a handful.
'I can't stress it enough: always include a link to high resolution images to go with the piece, if we have to chase you, it is less likely to get used. It's best to use online file sharing or email servers can block them.'
6. Create a story with staying power
In contrast to print media, online features are better if they are evergreen, which means it can be read at any time in the future (sometimes even years) and still be relevant. If it focuses on an upcoming event, it will be removed from the site after that date. Instead add a link to 'upcoming events' that takes readers to your website where you can include new events.
Print publications will have websites looking for copy. Even if the magazine doesn't want a feature, their website might. Make sure your text is SEO ready for maximum response to your article.
… and remember to include your name, social media handles and website link on any content.
7. If in doubt – cheat!
This simple Q&A is an idea of the kinds of things a feature writer wants to know about you. You should answer in sentences and in the first person, so any part of it can be used as a direct quote. Although the questions are standard, your answers shouldn't be.
Artist name
Where are you based
Biography
Any training or qualifications or educational experiences that relate to your work?
How did you develop into an artist (an interesting anecdote or story, perhaps you did an unrelated job before but gave it all up to pursue a dream)
What is/are your chosen medium/s?
Why do you work with this medium – how did you develop the interest?
How long have you worked as an artist, how has your work developed (eg from figurative to abstract, markmaking to painting)
What makes your work stand out (how is it successful, or different)
How are you planning to develop your work in the future – any future projects?
Optimize your website by composing your "about me"; see our blog; How to Create an About Me page that Makes Your Artist Website Shine