In art we tend to think of drawing as a starting point, with sketches that lead to finished work in paint, stone or plaster. But drawing is visual art in its own right, with a long rich history.
And try as we might, all viewers are impressed by an artist's ability to draw something as it looks in real life. Photorealism blurs the lines between drawing and photography to the point we can't see the difference. But line art celebrates the simple joy of drawing.
What is line art?
When we think of line art, most people think of simple outlines. The definition of line art is simply drawing without shadow or blocks of color. Instead, artists use distinct straight or curved lines or in one color (usually black) and forgo the shades or hues that help the image take form through dimension or depth.
The rule of line art is relatively simple: It is a drawing of an object or thing that exists. Leonardo da Vinci's Vitruvian Man may well be the most famous line drawing in all of art history. Vitruvian Man is scientific, artistic, philosophical and anatomical. All are expressed through lines and curves. It is the ultimate drawing: figurative, abstract, impersonal, subjective, rational and dogmatic. It is a drawing like no other, and only da Vinci could have produced it. Talk about genius.
Line art drawing styles
Contour drawing
Is contour drawing the same as line art? Contour art, often confused with line art, means only outlining an object. It is the first drawing style we adopt; the coloring-in comes later.
A contour line, or drawing an outline, defines the edges of a form or shape. This sounds easy, but the art of contour line drawing captures a subject's essence by emphasizing its most important features, such as its shape and form. This style brings an object down to its bare bones. An outline of a bottle is still a bottle. The irony is that things don't actually have black—or any other color—outlines.
It's a great exercise in learning to draw because it simplifies objects to their usually highly recognizable outline. And you can't use color or shade to help you out.
Artists who used contour drawings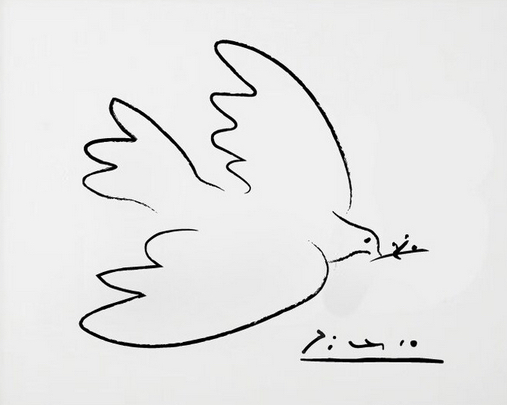 Pablo Picasso (1881–1973)
Few artists could express as much as Picasso with simple lines, capturing the essence of dachshunds, camels and flamingos. His dove is one of the most famous contour drawings in art history.
Picasso's drawings also employ the art of continuous line drawings—drawings created without taking the pen off the paper.
Henri Matisse (1869–1954)
Renowned for his figure collages cut and ripped from scraps of blue paper, Matisse's drawings are also instantly recognizable. His contour drawings are deceptively simple; his figures in particular show how a few lines can render emotion. The figures were created using charcoal attached to a large stick to counter the arthritis in his hands.
Stippling (dots)
Stippling is the drawing equivalent of the art style of pointillism: "the practice of applying small strokes or dots of color to a surface so that from a distance they visually blend together," as defined by Britannica Encyclopedia. The difference is that pointillism is done with paint whereas stippling is generally done with black ink on white paper.
The forgiving thing about stippling is that it is very easy to return to an area of your drawing and seamlessly add more.
Georges Seurat (1859-91)
Impressionist artist Georges Seurat (1859–91) famously developed pointillism or dot paintings from his drawings, his most famous being A Sunday Afternoon on the Island of La Grande Jatte.
Scribbles
One of the most joyous forms of line drawing, scribbling allows absolute freedom to keep repeating elements of your drawing and positively encourages speed in the execution. It is probably the most natural of line drawings and a great starting point.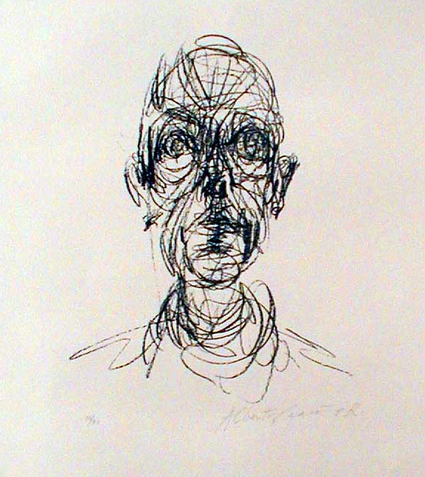 Alberto Giacometti (1901–66)
The Swiss artist Alberto Giacometti, whose work stands in New York's best art galleries, often drew on scraps of paper, repeating lines and curves in black ink. The drawing implement never appears to have left the surface on which it is made—a style in its own right.
With spirals and spirals of endless staccato movement, Giacometti's drawings have the same feel as his paintings and sculptures. Jean-Paul Sartre observed that one could never get close enough to his subjects, and it's true that they always remain somehow distant and enigmatic.
Repeated lines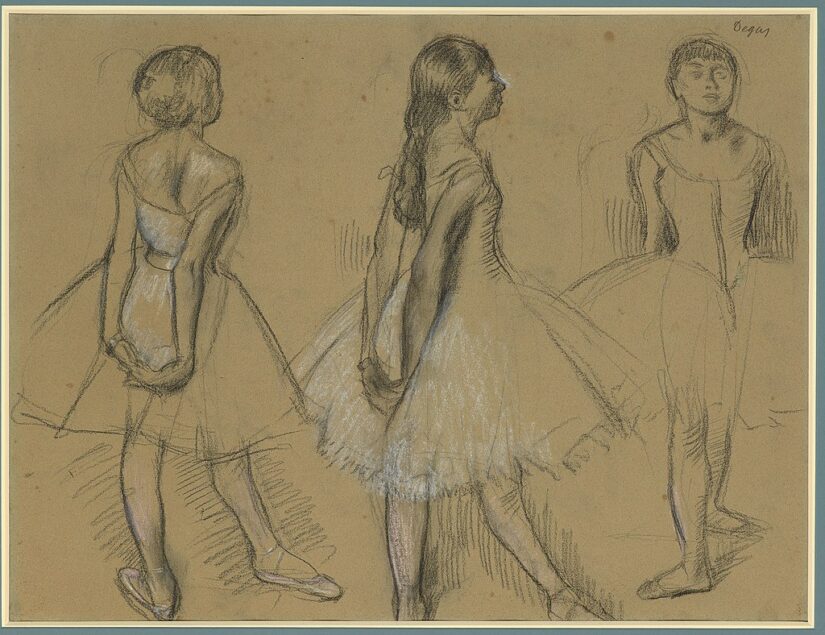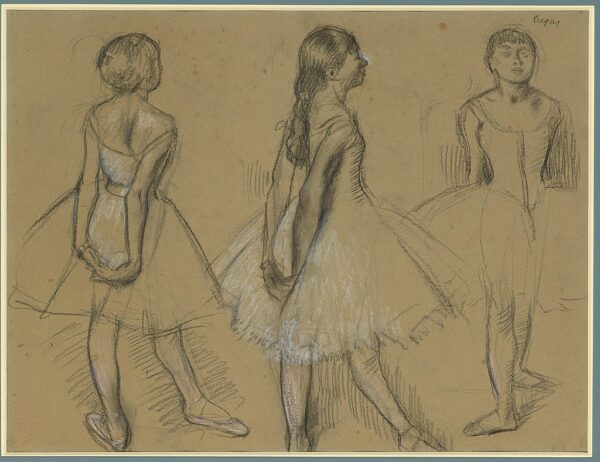 The impressionist Edgar Degas (1834–17) is known for his ballerina drawings and paintings, and the repeated lines in his sketches helped to suggest movement and fluidity. The dresses on his dancers seem to shimmer and move as we look at what is essentially a few pencil lines on paper.
Hatching and crosshatching
One of the most popular elements of line drawing, this technique uses short lines to create darkness with lines that sit closer and closer together. Hatching uses long, parallel lines on an angle while cross-hatching uses parallel lines at right angles.
For those learning to draw, this can be a slower, more precise method; students learn control of their medium before moving on to the more instinctive lines and scribbles.
Vincent Van Gogh  (1853-90)
Vincent Van Gogh had a strong painting style using curved lines to create a feeling of movement, a method he often employed in his drawing. But crosshatching also made plenty of appearances in his drawings, making them appear realistic and three dimensional.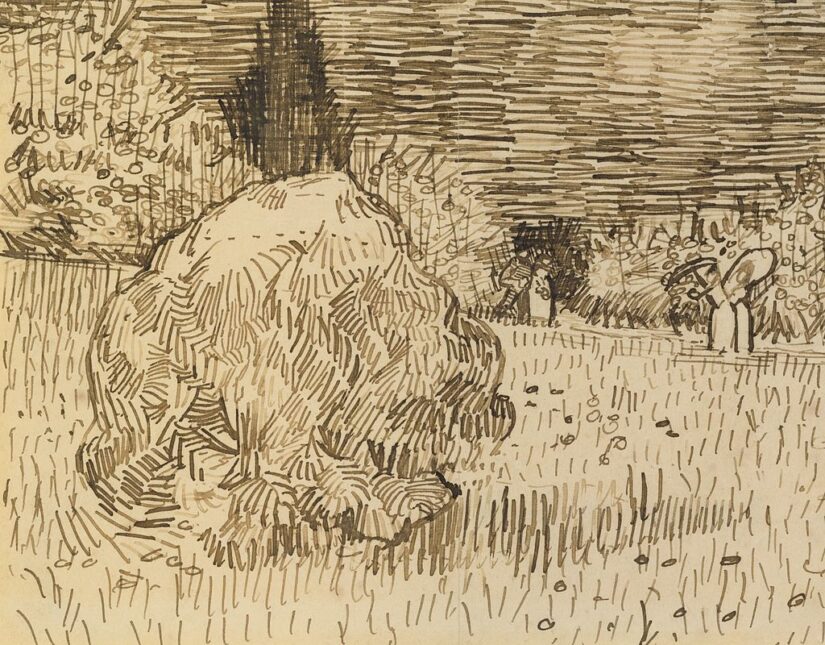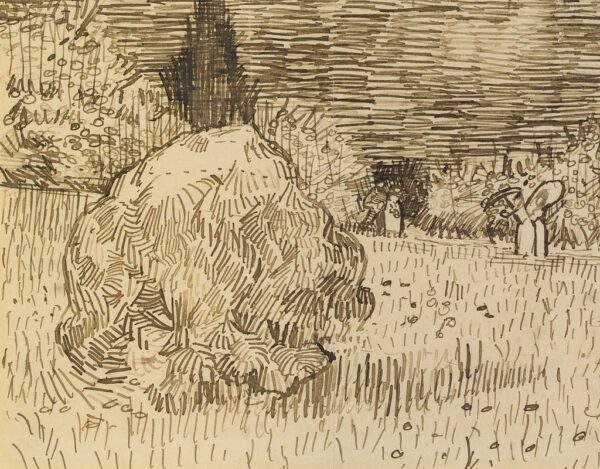 Leonardo da Vinci (1459–1519)
Look at any drawing by this genius of the Renaissance and you will see a masterclass in the use of hatching. His parallel lines convey shadow and light but also expression on the enigmatic faces of his models.
Two more unusual methods of line drawing are small crosses or small circles. The latter can be useful in varying how you do contour drawing.
Tips on how to create contour line drawings
Use a dark ink pen.
Use one color.
Start with black ink on white paper.
Try to draw a contour (outline) without taking your pen off the paper.
Don't vary the pressure you put on the paper so all lines are of equal weight.
Limit the time you give to each drawing (try our 30-second sketch challenge).
Start with simple objects that are easy to identify before trying something more complex, like a person's face.
TIP: Avoid drawing from photographs or 2D material. The idea is to render something 3D in a 2D medium.
Once you have mastered contour drawing, add shade and depth using the line techniques above. You can vary the dark and light by:
Varying the gap between the lines
Lightness/darkness of the line
Thickness of the line
Simple line drawing ideas
Here are a few subjects you can try to get started. Begin with black ink on white paper, and don't be afraid to keep trying with the same subject.
Flowers – Cut a flower from your garden and record the detail of shape. Capture the shape of petals, the inner flower and any stem. You can group flowers together for a more complex image.
Still life – Gather everyday items from your kitchen. Jugs, fruit or vegetables, bottles and vases. Group together and draw the shapes.
A face or body – Find a willing model and capture the lines of their face, head or body.
Repeat your exercises using different colors and materials sticking to one color at a time.
However you approach drawing, it is the foundation of all art, design and visual language. Happy scribbling!